Vicksburg City Auditorium
Vision:
The Vision for this conference is purified & delivered dancers and mimes flowing prophetically to the voice of God! The vision is for each participant to understand the call and depth of ministry that should be done through us as we study how God used several people in the bible after being purified. This shows that Jesus Christ took care of everything at the cross and the love of God overshadows and covers all but we must accept his love and the process he has for our life.
Mission:
Classes will be taught on Purification, deliverance, healing, and prophecy to first understand each spiritually with some classes dealing with specific clusters of spirits. We are moving into walking in the call and gifts God has given us. As the believer learns the different ways Satan has hindered our flow of dance and mime, each participant will have the opportunity to ask the Lord to ignite His purifying fire inside of them to burn away all unrighteousness and walk in fullness in ministry. We also will study biblically how God purified and delivered different people and the impact on their ministry this had. We want to teach the power God gave them after surrendering to His will. This conference will focus more on the spiritual aspect verses the technique of the arts although we will offer a few basic technique classes. We will focus on how to encourage them to remain purified so that power carries over. Many of you know hurting dancers or mimes that deal with so much and it hinders the flow but our goal will be to prophetically discern how to help them get purified and delivered and flow as a true new creation mentally, spiritually, and physically.
In addition to classes offered, We have a vision that will be similar to a panel but imagine different help stations (tables) set up and we will have people who have been delivered and cleansed of certain spirits and they feel comfortable talking about the process and people will rotate to the stations of their choice with questions. It will be presented if you are struggling or IF YOU KNOW SOMEONE THAT IS STRUGGLING please sit in with someone that is an overcomer and can help answer your questions so no one feels their business is out there but it's more information on different spirits, entry, and how to overcome and stay an overcomer. Such as someone that has overcome the spirit of suicide would have a circle and people would be able to listen to the testimony and ask questions.
What the Conference has to Offer:
Liturgical Dance
Mime
Flags
Hip Hop
Artistic Worship
Prophetic, Healing, & Deliverance Activations
Spiritual Trainings
Purpose: Purification in the Arts
I WANT TO THANK Kathryn Kay Reed AND I CAN FLY MINISTRIES FOR AN AMAZING EXPERIENCE! IT WAS TRULY A BLESSING TO HAVE JUST BEEN IN ATTENDANCE. - Chris Everett
Trust Him to lead and guide your steps of freedom. You Can do it!! Yes. You. Can! I've learned so much this weekend and I'm just so grateful for the leaders & examples before me. I have truly grown and been blessed #icfm2018conference #ByYourSpirit Ezekiel 36:24-29 #takeusdeeper #MoreofYou #Mysolidrock #pouroutyourspirit #Gracefullybroken #NYKB #nowyouknowbetter #whatareyoudoingtoshiftit
I want to offer a great big Thank You to Minister Reed and Kathryn Kay Reed for following through with the vision God gave you to do something different. This Purification Conference was SOOOO needed...like I can't even explain!! I prayed for God to show me what's been hindering me, and He did just that. Kay, you said, "Get what you came for!" A healing started for me, in some areas that I wasn't even aware of. Thank you both for being such a blessing to me, my family, and this community. I Love y'all dearly!! I pray that God restores you, and I pray that He blesses you and your ministry 100 fold!! - Ebony Gardner
ICFM 2018 Purification Conference finale was awesome!!! Thanks Kathryn Kay Reed and Minister Reed for sharing your vision with Travelers Rest Baptist Church and other ministries around the state. - Tangela Myles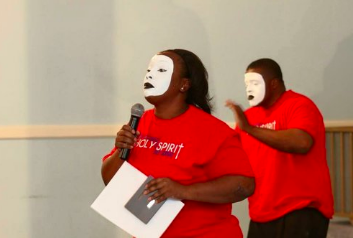 Thank You From The Visionary Kay Reed
By Your Spirit Conference has been called a Holy Ghost filled Broadway ministry show by many people in their testimonies! The feedback of testimonies has touched me deeply and my heart, spirit, flesh woke up crying tears of joy today! It was amazing and phenomenal and I am well pleased and pray the Father is as well!! The entire weekend built up until the spirit exploded in the place!! What a honor for God to consider us to feel His presence!!! Everything was filled with Him from the newly added activations to the prophetic mime and dance! All of the sessions were amazing!
Thank you to Pastor Dent for always supporting ICFM! Thank you to our board and staff members for making sure the conference vision came to pass, this was our best one yet and has been recorded in Heaven ICFM you definitely worked hard and it showed!! Y'all did an impeccable job!!! Thank you to all the arts and gospel facilitators and band and singers for pouring your spirit out at the conference, y'all are the best and I pray for a refreshing and overflow of blessings to come into your life!! All of you consistently are there for ICFM and we appreciate you!
A heartfelt thanks to all those that joined us for the conference and the finale! Thank you to all volunteers and churches for your participation!! This is kingdom with all of us joining forces. Thank you to my family and friends for your continued love and support! I am forever indebted to you! Special thanks to Pastor Lynn Hayden, DFH and Apostle Joe Brown, SOFM for all the training over the last two years to prepare for this conference! Thank you to all designers, photographers, videographers, sound and lights, and everyone that played a part. Thank you all!